Hello,

Version:1.0 StartHTML:0000000168 EndHTML:0000005416 StartFragment:0000000466 EndFragment:0000005399
welcome to all Movers of my TEAM. Please, make sure, that you communicate with your TEAM as well. You can drive real changes with communication. Take the Ram by the horns – you are in the driver's seat of all issues in your business (and in your life, too).
As we are working to meet our goals, we make many experiences. Some turn out good and others turn out bad, we can always make changes.


This is especially visible when we are planning our advertising campaigns. What is the best wording when we planning to attract more people to our business?

Don't fear approaching new prospects and don't think negative about rejections. We have to live with that.

We are helping people

We are the sponsors for our Affiliates and we can help them to provide them with professional skills and also with the faith that we would help them.

This is part of our commitment – therefore we are responsible for how our Affiliates can do their work.

We can start an add with an attention-grabbing header:


* "Are you okay staying at this job forever?"
* "Do you think we will get huge raises here next year?"
* "Have you found a way to have more time with your family?"
* "Would it be more fun if your career was more fulfilling?"
* "How do you feel on Sunday evening, when thinking about Monday morning at work?"
Then use a banner code from the Marketing Centre or an text ad. Post this add on various platforms, in the beginning, start with free advertising. In case, you can spend a few dollars you
could also do paid advertisng. The latter works really good, if the add has good results (check the stats in Hit Tracking https://www.sfimg.com/PowerTools/HitTracking!)

Is it possible to double our earnings?
Here is one way to imagine the answer. · Is there anyone in our business that earns twice as much as we do? · Yes, many people. And are these people smarter than we are? No. They just know something we don't know yet.
That is why we continue to learn more and better skills in our profession.
Please visit my Leadership Page here:
Please register – if you want to participate in my new competition.
Please also visit my Wordpress blog here: https://www.fwfritz.net/2019/02/04/you-are-first/

All the best success to you first!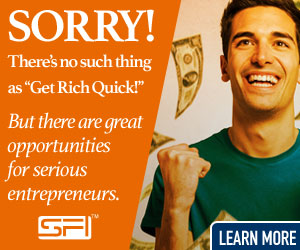 Sincerely
Friedrich Fritz