Dear Subscribers,
Welcome to my newsletter. I love writing. This is part of my communication with my group.
Communication is very important. A brand new month starts in a few days. We are ending one circle and starting a new one.
Have confidence and share it
We, who are in this Network Marketing business, need to have confidence in what we do, each day has good news on its agenda. When you log in on your SFI homepage, you always begin with SFI News. Read them and be prepared.
It's a part of our public image, and we share it with the online crowd when we promote this business.
At the same place, you find the Forum.
Get used to the Forum.
In the Forum, you find discussions on nearly any topic. Get well informed, and you can also leave your comments.
Build your TEAM.
This business is always hard work. But, start the promotion from day one and never give up. Promote business and services from ZING Network. The best and easiest way is to buy one or more shares S-Builder Co-op (https://www.tripleclicks.com/detail.php?item=38631 ).
This item will pull new PSAs and PRMs automatically into your downline – you sent them a friendly welcome letter. Please, offer them a chat via the Icebreaker tool. Be ready to answer their questions.
Improving life
That is precisely what we do: we are offering one more option to improve the lives of our Affiliates.
Nothing more.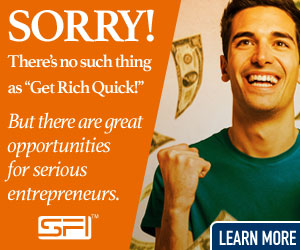 Have a successful start in the next exciting week.
Sincerely
Friedrich Fritz